Zsófi Major graduated in international communication, and in the 5 years after college she worked for a bank in London in the finance area and then for another company in the corporate communication field. Then she returned to Hungary, where she worked for a PR agency, then moved to Barcelona and continued there in a similar job. Returning from Spain, she worked for a non-profit company and then became a "Mrs. Baker" – when she and her husband opened the Andriska Bakery Bistro in Kővágóörs. Zsófi's life has been full of great changes so far as well, but they are currently facing completely new challenges in their joint bakery business with her husband.
In the time before your current business, what was it that motivated you to change jobs?
At my very first job in London, I felt that although I was earning very well, especially being only in my twenties, it didn't motivate me. I was interested in the work until I learned it, but after that I couldn't find in it what I was looking for. I didn't see where my journey would take me from this place. In these jobs, many people are simply striving to make even more money, to get an even bigger bonus. But that wasn't my goal. I didn't know exactly what area I wanted to work in within communication, but I definitely felt like I wanted to do something that motivates me from within and that represents some added value. In my next jobs, I have already found these goals better. The last stop on the work front before my current life was Skool. It is a non-profit company that teaches programming to girls and disadvantaged children. Skool helps them to integrate into this area of ​​work currently dominated by men, as this is an important part of the future.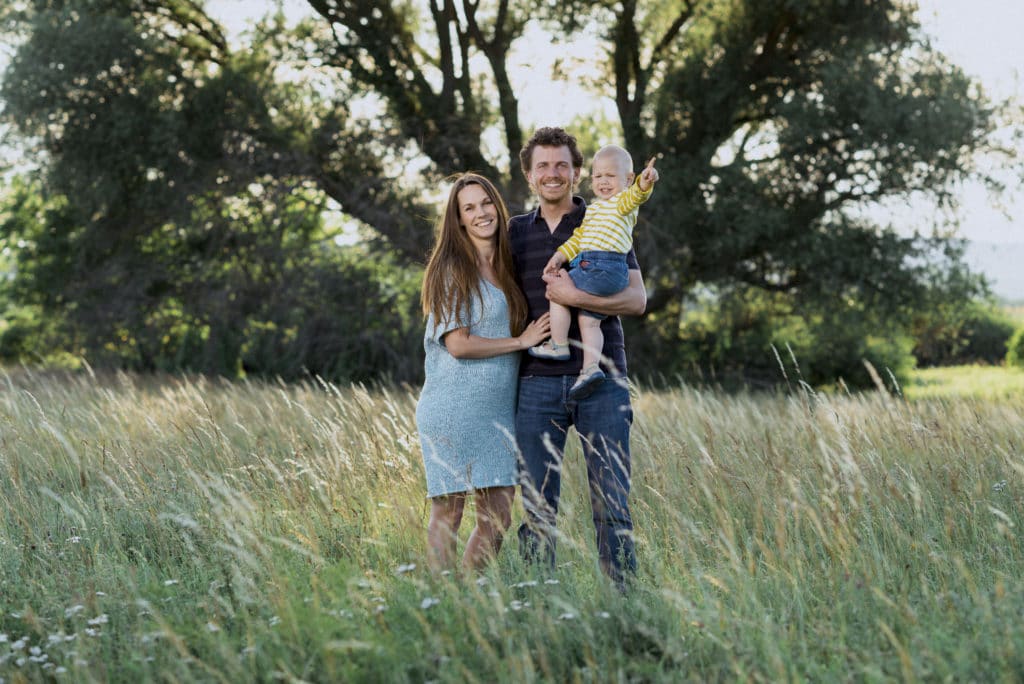 After all these, how did you come to open a Bakery Bistro with your husband?
This was a big dream of my husband, Andris. He originally wasn't preparing to become a baker either – he graduated from law, he also worked in a bank, but he loved to bake and cook since he was a child. For a long time, he only took such jobs in addition to his current permanent job, where he could learn the profession. In the meantime, he also obtained the necessary professional qualifications. The end goal has always been to be able to open a place of his own.
Why by the Lake Balaton?
I am from Siófok (a city by the lake) so Balaton has always played an important role in my life. My husband and I basically we met here, in one of the small villages by the Balaton, at an event of a common friend of ours (where Andris cooked actually). After that we travelled here a lot, we really liked to be here. Then we started thinking about how to be here more and not go back to Budapest after the weekends – which we were less and less happy to do. That's when our idea came to open a bakery here. He added the professional background to the business and I supported him in the implementation with my own experience.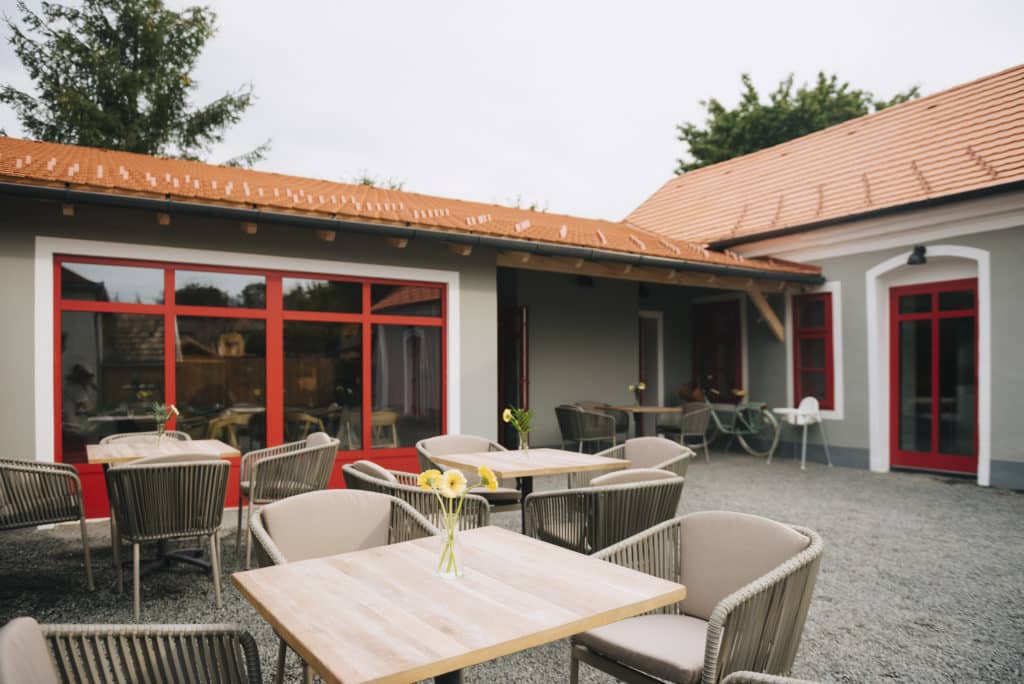 What was your own attitude about realizing your husband's dream?
I believe that if someone has had this dream for so many years, which, moreover, practically determines their whole life, then it should be tried to be made true.
I said that the worst thing that could happen is that if it doesn't work out, we'll both go back to work for a company.
It has always helped me a lot to look at what is the worst thing that can happen before making a big decision – I spend some of my saved money, go back to work where I did before, and so on. And these always gave me a sense of security before the big shifts – just like now.
Why did you choose the village of Kővágóörs?
Here in the Káli Basin on the north side of the Lake Balaton we saw that there is no artisan bakery in the immediate area, this is a market gap that we realised. In Kővágóörs, on the other hand, there was an old bakery that had been operating for many decades, here it had a tradition. The building, when we found it, was empty for 15 years, stood dusty and we felt it would be our place. As we also completely moved here from Budapest, this change, the bakery eventually became a family business for both of us. That's how I became a "Mrs. Baker".
What did the people around you say about your plans?
Our friends and family were also supportive, but they were afraid of how this would work out. We have been asked many questions about whether this decision is a good one, what we will make a living from in the winter, who will buy from us, will there be those who pay this high-quality price level.
Now that you've been past the first half of the year and already a part of the winter since the opening on 20th August 2020, what are your experiences?
The fact that there is indeed a demand for quality bakery products. Of course, there are those who, although they want to, but cannot afford to buy from us every day. However, there are also many who can afford it and for whom it is important what they eat and that a sourdough bread can be consumed for five days. It costs more than a bread in the supermarket, but people also get better quality at our Bakery Bistro. Overall, we are very happy with our first winter. Obviously, we still have to work to expand our local customer base, but it has already started to improve that
more and more locals come to us regularly, and we are very happy about it. Right from the beginning we aimed to make good quality baked goods available to locals and to the people close by as well.
How people reacted to the opening of the Bakery Bistro?
Fortunately, it has been very positive, already during the renovation many people came to ask about the new place and they were very much looking forward to the opening. As everywhere, of course, there were people here who were sceptical at first, it was also said that the price of the products was higher in our bakery. But we do not have any additives in the bakery products, everything is made here, fresh, with milk, butter, sourdough. We also managed to bring a very highly qualified team of professionals here. Therefore, it can't be cheaper than an artisan bakery in Budapest, as nothing is cheaper here at all.
How do you integrate in the new place as entrepreneurs?
We consider it important to integrate into the local environment. And this affects everything, starting with the raw materials. Not only have we come here to take advantage of a summer tourist wave, but we really want to add value to the area here.
We decided that we would also like to represent the "Balaton all year round" and "Káli Basin all year round" wave, which other places have already started here.
We think this is how a region can really be boosted and prospered in the long run. When you not only want to take advantage of the summer to do business, but you also want to give something to the locals. We planned the entire product portfolio in a way to have products that are more widely available. In addition, there are products that are more complex or require longer production, so they represent a higher price range, but we also offer them at a good price. It was very important for us to diversify our product range, parallel to the fact that our clientele is also very diverse. This, for example, brings us a lot of challenges in the communication work of the company.
What was the most surprising thing you've come across so far?
We prepared for the opening on 20th August from all aspects, including communication. We wanted people to already know this is happening by the time we open, so that they hear about us in advance. We opened the Bakery Bistro at 7 in the morning and people started queuing at 6 am before the opening, and the queue reached out to the street – for 4 days… We were very surprised by this ourselves. We sold everything on the very first day, including the last loaf of bread – despite the fact that we were already preparing for the opening with a large capacity.
What was your biggest challenge so far?
It is my personal experience that this Bakery Bistro profession is a very different genre compared to where I have ever worked so far. It was surprising that I felt I still had a lot to learn in this area. I thought that I had already done this and that, I was leading a team, it could do this.
But with such a high interest – as it was at the opening already – performing in the same high quality every day is an amazing challenge.
And I would have never thought that. Since then, I've been looking at such places and restaurants with a very different point of view because it's a very hard work that they do during a peak season.
Have you been over an equally exhausting period now?
Yes, and that is why we decided to have a one-month closure in January. Andris has been working 7 days a week, 20 hours a day, since August 20, with no day off. When he was not working, he could only sleep, nothing else. Now, in January, we at least managed to regain our energies. In the meantime, we were preparing for the reopening, we were writing a strategy – which may sound weird, that a bakery has a serious strategy. But we found it necessary to know where we are heading to, to what we say no, and to be more focused than we were in our first half year.
Personally, the biggest challenge of my life in the last 6 months has been working on a project of such intensity while having a 2-year-old son.
After London-Barcelona-Budapest, is there anything missing from the big city while living in the small village of Kővágóörs?
Yes, it is a legitimate question what I do at Kővágóőrs after these big cities. ☺ I would say at this moment that I would rather like to have the opportunity in the future to go to Budapest if something is missing. But actually, there is nothing missing in my everyday life. Of course, now it's an upside-down situation, because it's not really good to be in the big city because of the Covid. And for some reason, life has brought us this opportunity to enjoy being here and not missing what's in Budapest. Friends are very much missed, though. In the long run, we would love to have a small base in Budapest too, that allows us to spend some time there if we want to. But we really like being here and with a small kid I think it's better for us now.
You can reach Andriska Bakery here: